Our Team
Amy Snider-Whitson
| | |
| --- | --- |
| | Our Business |


The Test Kitchen Incorporated is a boutique consultancy firm that specializes in recipe development, food writing, nutrient analysis and concept development. Our core team is small and has been consciously assembled to include people with skill sets that synergize to provide a unique and credible offering. In addition to our core team, we bring in experts on a freelance basis when specific skills are required to complete a special project. Many of our core and extended team members have written books and articles in their area of expertise.
| | |
| --- | --- |
| | Our Team |

Amy Snider-Whitson PHEc. | President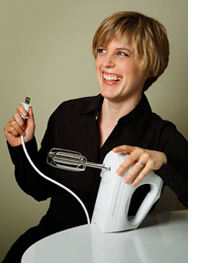 With a degree in food and nutrition and field experience as a professional home economist, Amy Snider-Whitson is a proven recipe developer and culinary nutrition consultant. After 10 years collaborating with Dana McCauley, Amy now leads a team of skilled home economists, chefs and other culinary professionals under the banner, The Test Kitchen Incorporated. Creativity, consistency and quality are a priority for Amy. Snider-Whitson values a team approach to the recipe practice, which provides a quality of service that has made The Test Kitchen Inc. a preferred supplier for food companies, PR firms and marketing agencies.
The Test Kitchen Inc. team develops hundreds of recipes for its corporate food clients as well as providing a range of supportive services. A full service practice, Snider-Whitson provides professional nutrient analysis services to guide recipe development and marketing initiatives. After years of working with a variety of data base programs, analyzing thousands of recipes, Amy is very comfortable working within both CFIA and USDA guidelines.
Amy is an accomplished food writer. Her first cookbook, Fiber Boost, Everyday Cooking for a Long Healthy Life (Key Porter), was published in 2004. Amy has written several online articles for various clients' websites and is featured regularly in Canadian Health & Lifestyle Magazine.
An accomplished spokesperson, Amy has appeared on media outlets across Canada including Breakfast Television programs in Toronto, Calgary and Winnipeg, CH11 Morning, CKCO Noon News, Global Morning News in Toronto and Calgary and several Roger's Daytime programs across Ontario.


Stay tuned to meet some of the Test Kitchen Incorporated's new team members.